David Booth Reflects on University of Chicago and Dimensional
By David Booth, Executive Chairman and Founder
---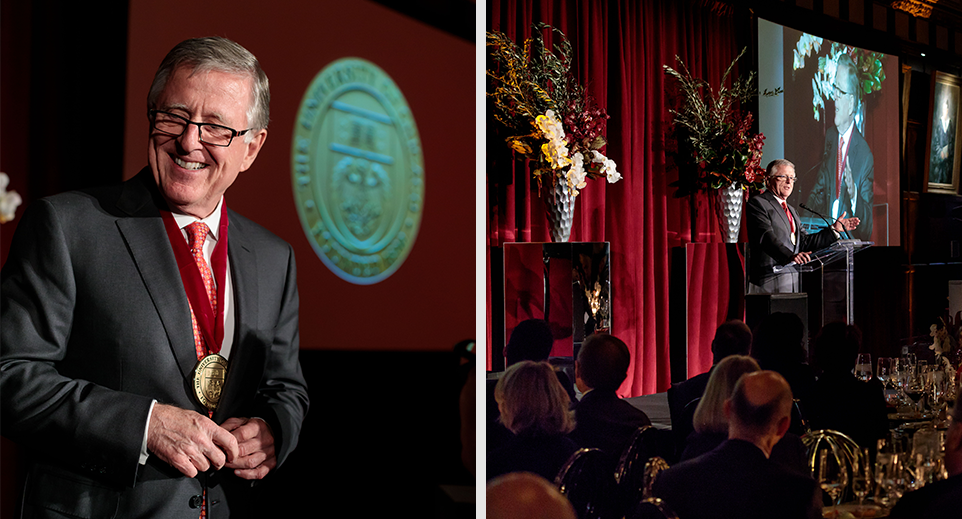 On Nov. 7, 2018, David Booth became the 23rd recipient of the University of Chicago Medal. During a special awards ceremony, David reflected on the formative role the university has played in his life and the profound impact it has had on modern finance and Dimensional. The following is adapted from his comments.
I'm now in my 50th year of this great experience being associated with the University of Chicago.
I took Gene Fama's class my first year. The very first day, he said, "This is going to be the most practical course you'll ever take."
It turns out he was right. The field of finance was undergoing a big change—emerging as an academic discipline with models and research. The ideas that were floating around the University of Chicago turned out to be incredibly valuable. Millions of people's lives are better off today because of the way those ideas have been applied.
It was an exciting time, and I wanted to be part of that change. Improving people's lives by applying these new ideas became my purpose. And that led to the creation of Dimensional.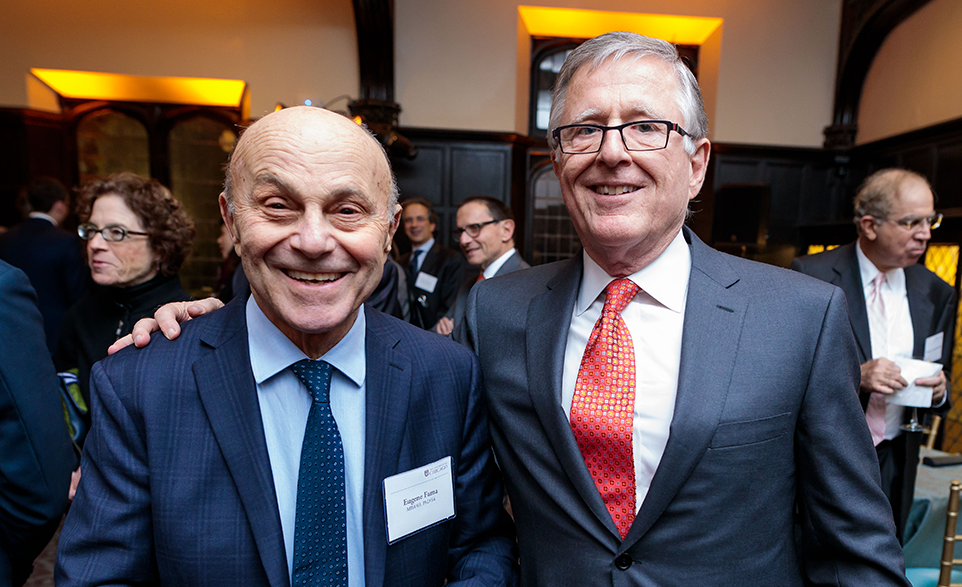 Back in 1981, if you'd said, "I'm going to create a firm with a bunch of people from the University of Chicago," people would have laughed.
It was an exceptional group of people. I had the privilege of serving as Gene's research assistant, and he's been involved with the firm since the beginning as a director. Gene introduced me to Mac McQuown when I finished my MBA from the University of Chicago, and I went to work for Mac. Through Gene's class, I also met Rex Sinquefield, who would become my business partner. Gene, Mac, Rex, and I were kind of the core group. And, somehow, we managed to pull it off.
When we started, we wanted to create a mutual fund, and people said, "You know, you have to have an independent board of directors." So Rex and I went over to the University of Chicago business school. We walked into Merton Miller's office and asked him to be an independent director, and he said, "Sure." We caught Myron Scholes on his way to lunch, and he said, "Sure."
We quickly added Jack Gould (who was dean of the business school), George Constantinides (who taught at the business school), and Roger Ibbotson (who had been a classmate of mine). We built the firm around leading academics. And they all joined us without knowing if they'd ever get paid.
We started on a shoestring. The world headquarters was my apartment. The first trading room was my spare bedroom. We didn't have any money to pay directors fees.
People often ask, "How did you get those first clients? You didn't have a track record." A big part of the reason was that we had these leading academics willing to lend their names to help us establish credibility. That's worth a lot. And that became the motivation for giving back to the University of Chicago.
It's been a fantastic experience. I am so proud to have been part of it. Thank you for this honor. I'm humbled by it. I know you could find people who deserve it more than I do, but I assure you that no one would appreciate it more.
Read more: University of Chicago Honors Dimensional Founder David Booth
Disclosures
Eugene Fama is a member of the Board of Directors of the general partner of, and provides consulting services to, Dimensional Fund Advisors LP.
John "Mac" McQuown is a member of the Board of Directors of the general partner of Dimensional Fund Advisors LP.
Myron Scholes, Roger Ibbotson and George Constantinides are independent directors of the Dimensional US Mutual Fund Board. The "US Mutual Fund Board" refers to the boards of directors of the DFA Investment Trust Company, DFA Investment Dimensions Group Inc., Dimensional Investment Group Inc., and Dimensional Emerging Markets Value Fund Inc.
David Booth is Founder and Executive Chairman of Dimensional Fund Advisors LP. David Booth currently serves on the University of Chicago's Board of Trustees, is a member of the Board of Overseers for the Becker Friedman Institute for Research in Economics, and is a lifetime member of the Booth School of Business advisory council.
Investing involves risks including possible loss of principal. Dimensional Fund Advisors LP is an investment advisor registered with the Securities and Exchange Commission.